Category
Mochi
Mochis are delicious Japanese desserts, made of rice dough and filled with sweet or savoury fillings such as red beans, matcha or sesame paste. There are also Mochi ice cream balls. In these, the outside is also made of rice dough, but the inside is then delicious creamy ice cream! These too come in different flavours like mango, strawberry, coconut and many others.
Check all mochi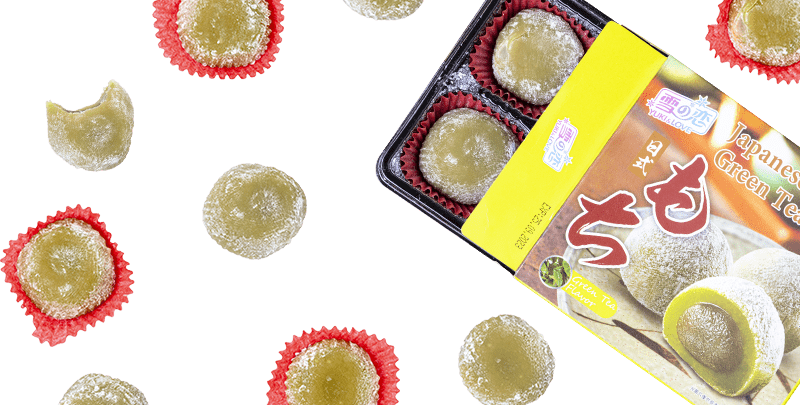 All Mochi
Discover the Delight in Mochi
Experience the unique blend of textures, tastes, and traditions encapsulated in a piece of Mochi, a popular Japanese dessert. Mochi is a sweet rice cake made from mochigome, a type of Japanese glutinous rice. Undertaking a special steaming and pounding process, the rice is transformed into a pleasantly flexible and chewy treat that is a joy to bite into. Bursting with flavors from the smorgasbord of creative fillings, it ranges from sweet azuki red bean paste to matcha green tea, right through to a luscious strawberry center. It is often dusted with a layer of potato or cornstarch to prevent this morsel from sticking. Mochi's versatility extends beyond fillings; it serves as a key ingredient in Japanese New Year celebrations, a topping in frozen desserts, and even a standalone snack. With its burstiness of flavors and perplexing texture contrasts, Mochi forms a delightful acquaintance for taste explorers and a fondly craved dessert for connoisseurs. So, dive in and unravel the gastronomic wonder that is Mochi.
Exceptional Ingredients of Mochi
Experience the delightful burstiness that encapsulates our mochi! Lovingly crafted by artisans, this Japanese dessert uses careful selections of prime quality ingredients. Prominent is glutinous rice, painstakingly pounded to sheer, gooey perfection: that's our famous mochi texture! Complimented by an assortment of fillings ranging from sweet azuki (red bean paste) to savory matcha, every bite is a feast for the senses. The perplexity of nuanced flavors merges traditional elements and innovative ideas. Savor it for its commitment to purity, dedication to simplicity, and the enchantment of cultural authenticity. Mochi, undoubtedly, stands testament to Japan's exquisite culinary craft.
Mastering the Art of Mochi Making
Mochi, a traditional Japanese delicacy, demands precise preparation to achieve its unique texture and taste. This rice-based delight requires short grain glutinous rice which undergoes an intricate process of soaking, steaming, and vigorous pounding until it attains its characteristic chewy consistency. Afterwards, it's often filled with sweet fillings like red bean paste, shaping it into small balls or squares. The brilliance of mochi lies in its balance - the soft exterior pairs perfectly with the rich, sometimes contrastingly textured filling inside. Remember, creating perfect mochi takes practice, invoking the spirits of patience and cultural tradition in every bite.