Category
Yakitori Sauce
Yakitori are chicken skewers with a special Yakitori sauce. The sauce is a sweet, sticky sauce. Often the chicken pieces are marinated in this sauce before grilling. When served, the sauce is poured over the chicken once more. Yakitori is considered a true street food.
Check all yakitori sauce

All Yakitori Sauce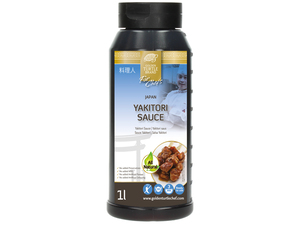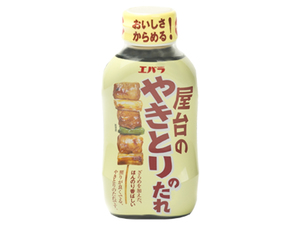 Unleash Authentic Flavors with Yakitori Sauce
The true epitome of Japanese culinary artistry, Yakitori Sauce, is a classic blend of savory umami goodness that never fails to impress. Conjuring an intricate mix of sweet and salty elements, this mouth-watering sauce brings any grilled dish to a whole new level of delectability. It primarily features soy sauce, mirin, sake, sugar and a hint of ginger - all simmered to form an enhanced syrupy constellation of flavors - yielding a remarkable punch of taste to your grilled meat (but not limited to), particularly skewered chicken (Yakitori). Put simply, it anchors your journey to a massive sensory delight, recreating the atmosphere of streetside grills in Japan right in your kitchen. Whether you're an ardent fan of Asian cuisine or a curious food aficionado, embarking on this culinary experience with Yakitori Sauce will undoubtedly leave you salivating for more. It's time to unravel the secrets of the tantalizing Yokitori Sauce and accelerate your journey to superlative culinary crafts. Experience an immersive, authentic enchantment filled with the best of Japan's robust, timeless flavors.
Unveiling the Secret Flavors of Authentic Yakitori Sauce
Immerse yourself in the rich, tantalizing flavors of an authentic Yakitori sauce, a Japanese culinary treasure. Its distinctive taste derives from a harmonious blend of key ingredients: soy sauce, mirin, sake, and sugar. These ingredients ingeniously intertwine, delivering a vibrant fusion of sweetness, saltiness, and umami that will truly mesmerize your taste buds. The SPG ratio(Sugar, Protein, Gluten) is meticulously monitored and balanced to ensure the sauce's enchanting burstiness yet maintaining its deep savory notes. Made with no artificial additives, this Yakitori sauce ensures purity and authenticity, redefining your home cooking experience.
Mastering the Art of Yakitori Sauce Preparation
Discover the magic behind Yakitori sauce, an essential condiment enhancing Japanese cuisine. Immerse yourself in the process of concocting this rich, umami flavor bomb. Starting with high-quality soy sauce, mirin, and sake, the ingredients are slowly simmered, allowing them to meld together. The secret is in the addition of brown sugar and fresh garlic, creating a burst of sweetness that counters the salty backbone. The complexity of this sauce lies in its balance and the artisanal process of its creation. Experience the authentic taste of Yakitori sauce and intensify your culinary adventures.