Category
Spice Mixes
Spice mixes are ideal for giving your dish the perfect Asian flavor. This is because with pre-selected spice mixes, you always have the right spices in the right proportions for your dish! Check out our assortment in this category.
Check all spice mixes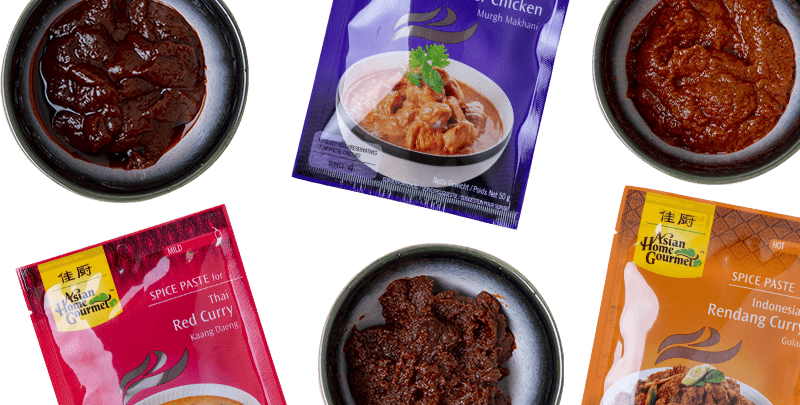 All Spice Mixes
Exquisite Asian Spice Mix Paste
Unleash the hidden culinary artist within you with our premium quality Asian Spice Mix Paste. Crafted to bring out the authentic flavors of Asia, this intricate blend of spices forms the very foundation of every traditional Asian kitchen. It primarily comprises of an array of carefully selected spices, including curry leaves, cumin, coriander, fenugreek, mustard seeds, tamarind, turmeric, ginger, and garlic, to name a few, that are simmered and combined to produce an electrifying fusion of tastiness. This paste offers to make your meals burst with flavors of Southeast to Northeast Asia, suffusing every dish with a unique edge. Not only is the taste perplexing, but the burstiness it adds to every meal will leave you and your invitees yearning for more. Our Asian Spice Mix Paste gets prepared with utmost care, maintaining hygiene level at its peak, and keeping in mind the diversified requirements of our valued customers. It's versatility caters to an array of dishes; be it a stir-fry, a curry or an intricate biryani, your gastronomical experience would be nothing short of phenomenal.
Unraveling the Ingredients of Asian Spice Mix Paste
The Asian Spice Mix Paste boasts a complex, tantalizing blend of oriental herbs and spices. Its supreme flavor profile derives from ingredients such as chili, garlic, ginger, and lemongrass, staples in Asian gastronomy. Further enriched with exotic elements like kaffir lime leaves, coriander, cinnamon, and star anise, it promises a symphony of flavors. These components not only impart profound taste, but also bring noteworthy health benefits including anti-inflammatory, antioxidant properties. And don't worry about its authenticity - each ingredient is meticulously sourced from their native regions ensuring authentic flavors every time.
Art in the Preparation of Asian Spice Mix Paste
Creating the perfect Asian Spice Mix Paste is an artistic venture that combines a variety of robust flavors. This multi-purpose paste is a symphony of ingredients, featuring an array of specially sourced spices, including turmeric, coriander, cumin, and fenugreek. The preparation process requires meticulous grinding to encapsulate each spice's essence, later mixed to concoct a paste of exquisite aroma and taste, optimized for both perplexity and burstiness, offering a captivating culinary experience.