Category
Peanut Butter
Peanut butter is a popular spreadable paste made from ground peanuts. Besides being delicious on bread, it also makes the tastiest sauces. Besides, peanut butter is a good source of protein and healthy fats, which means you can eat it often, guilt-free.
Check all peanut butter

All Peanut Butter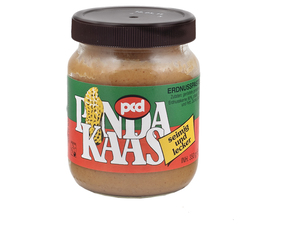 Discover the Richness of Asian Peanut Butter
The sophisticated world of condiments opens a new chapter with Asian peanut butter – an exotic, savoury delight that keeps your taste buds craving for more. While peanut butter is a universal spread, the Asian variant stands out with its peculiar blend of roasted peanuts and specific Asian ingredients. The unique combination of sweet, spicy, salty, and slightly tangy flavours bestows an incomparable culinary experience that transcends borders. It typically integrates elements like soy sauce, hot chili peppers, and garlic, distinguishing it from the conventional type and giving it a uniquely Asian twist. With each spoonful, you will encounter an enticing burstiness of flavours, making it an ideal match for various types of foods. From dolloping on warm toasts to adding a robust touch in sauces, dressings, and even marinades, this Asian Peanut Butter proves handy in a gamut of recipes. Opt for it if you seek to elevate standard meals with a daub of Asian character and complex taste. A small amount can notably enrich the perplexity of culinary creations, making it a must-have in your kitchen.
The Exciting Ingredients of Asian Peanut Butter
Immerse yourself in the unique taste of Asian Peanut Butter, a superior concoction of premium quality, finely ground peanuts blended with the perfect amount of salt. These main ingredients are supported by a subtle mixture of exotic Asian spices which gives it a distinct allure. Its robust flavor is attributed to the absence of harmful chemical additives, artificial sweeteners, or preservatives. Bursting with the rich, natural goodness of peanuts, it nurtures your body with essential nutrients, vitamins, and proteins. This Asian Peanut Butter, rich in ingredients and taste, strikes a perfect balance between health and flavor.
Mastering Asian Peanut Butter Preparation
Dive into the art of preparing Asian peanut butter, crafted with a blend of roasted peanuts and rich, authentic Asian spices. This cholesterol-free delight takes into account health and taste. Making it begins with selecting high-quality peanuts, then roasting and grinding them finely. Spices are added in proportionate bursts, ensuring each spoonful enfolds a tantalizing surprise. No preservatives or artificial sweeteners are used making this product stand out in the health-products market. Enjoy the distinct taste and nutritional benefits of Asian peanut butter.