Mung Bean Dahl
the ultimate comfort food
India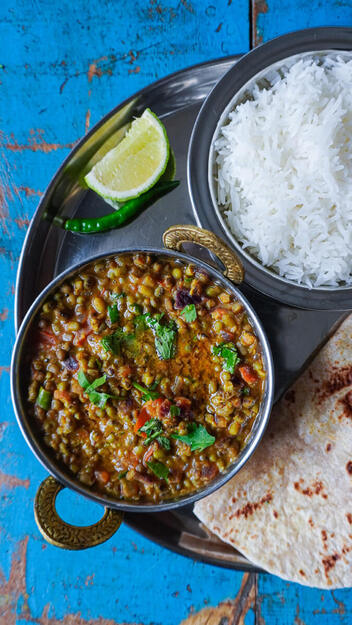 Main course
4 persons
50
Medium
Dahl is a popular dish in India, Pakistan, Sri Lanka and Nepal. It is also often written as Dal, Daal or Dhal. This authentic dish consists largely of legumes, making it a source of protein. Besides being a healthy dish, it is also packed with flavor by using the right spices. Vegetarians and Vegans love this dish, but even meat lovers can appreciate the taste.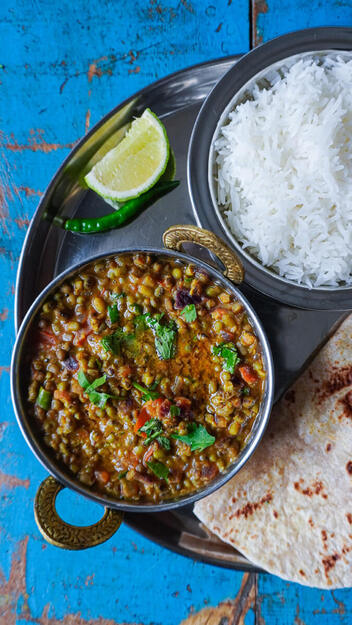 Ingredients
2 tsp Salt
3 tbsp Sunflower oil
1 Onion
2 Tomatoes
15 g Coriander
Preparation method for Mung Bean Dahl
Wash the mung beans under cold running water until the water looks clear. Soak them for at least 8 hours, but preferably overnight, in plenty of water.
Kook de mungbonen 20 minuten in 750 ml water met 1 theelepel zout. Giet af en laat het een tijdje drogen met stoom. (bewaar de gezeefde vloeistof in een kom).
Heat the sunflower oil in a frying pan over medium-high heat and add the cumin seeds, let it simmer for 15 seconds. Then fry the onion for 3-4 minutes. Add the ginger-garlic paste and fry for 3 minutes. Stir in the tomatoes and fry until soft, 5 minutes while stirring.
Add the rawit peppers, turmeric powder, chilli powder, cumin powder, coriander powder and fry for another 2 minutes.
Add the boiled mung beans and 350 strained liquid and bring to the boil. Continue cooking for 5-7 minutes. Add garam masala and coriander leaves and stir well. Serve this dahl with chapati (flatbread from India) and/or rice.
Serve tip
Serve this dahl with chapati (flatbread from India) and/or rice.